Monday morning I could not even eat breakfast I was so nervous. I felt like I was getting on a huge roller coaster. I was sure that we would get a call telling us the hearing had been canceled again.
When no such call came we went downstairs to meet our driver and he whisked us off to a building so old and run down that I did not think it could possibly be the court. Natalya met us with our court translator and we went in through a turnstile, up a small staircase and into a skinny long hallway. We stopped at the first door and everyone started talking very quickly in Russian and gathering documents. Other people arrived and milled around. We were all squeezed into a very small area off the hallway and everyone was pacing back and forth and looking very nervous.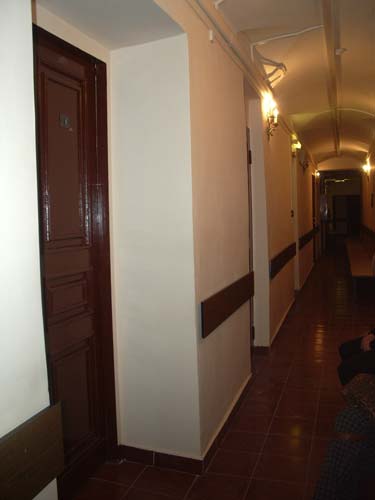 I was simply beside myself and just wanted to get it over with.
It wasn't long before someone opened the door into a tiny room that had the judges chair and desk and just room enough for the prosecutor, secretary, the 2 ladies from the orphanage, us and our translator.
We waited for probably 10 minutes for the judge to appear. She came in all business and began right away. She spent a lot of time reading each paper out loud and our translator repeated everything to us so it took twice as long.
She asked which one of us would like to talk about why we wanted to adopt so Jeff stood up and talked about how we were both adopted and wanted to do the same for another child. She asked if we were both in agreement and we both said yes.
Then she started the questions about our finances. She asked about if we thought we could afford another child, if we planned on paying for her education and if we expected our income to stay the same. It took about 5 minutes and she moved onto questioning the ladies in the orphanage who said they thought she was a good match for our family and that we interacted well together.
They talked about the fact she had been exposed to TB over and over again, stressing that no Russian family would want her because of this. The judge asked if any Russian parents had shown any interest in her and the director said no not ever. The judge asked if there was a possibility any Russian family would take her and the directors once again stressed that no Russian family would want her because of her TB exposure and that she desperately needed to be in a family as soon as possible with good food and vitamins. They said they believed we could give this to her.
The judge asked me to stand and asked about our oldest son who is in the Air Force. She asked how long he was in for and if when he got out he would come to live with us. I couldn't help myself and laughed a little and said No he would not be back to live with us. She told me I could sit down and that was the only time she asked me anything.
Then she moved onto the prosecutor who said that she had looked over all the papers and was in favor of granting the adoption.
The judge looked over her paperwork then said she would consider our request and return shortly.
That was the longest 10 minutes of my life. When she returned she began reading paperwork out loud again, basically repeating everything that had been said including the TB issue another 4 or 5 times.
As soon as she finished reading she closed her files and said "All Finished". She stood up and left the room. I was looking around wondering what happened. The translator was smiling and said Congratulations. It was so anticlimactic....nothing like I had imagined. I thought I would break down and cry but instead all I felt was this overwhelming relief and desire to get out of there.
When we left the court we went straight down the street to the MOE and where we were signed off the list of prospective adoptive parents. We went back to the hotel, changed out of the fancy court clothes, picked up Emily and Jeffy and headed for the orphanage. We stopped along the way to eat then settled in for the 2 hour drive.